Lesson diary starts!!!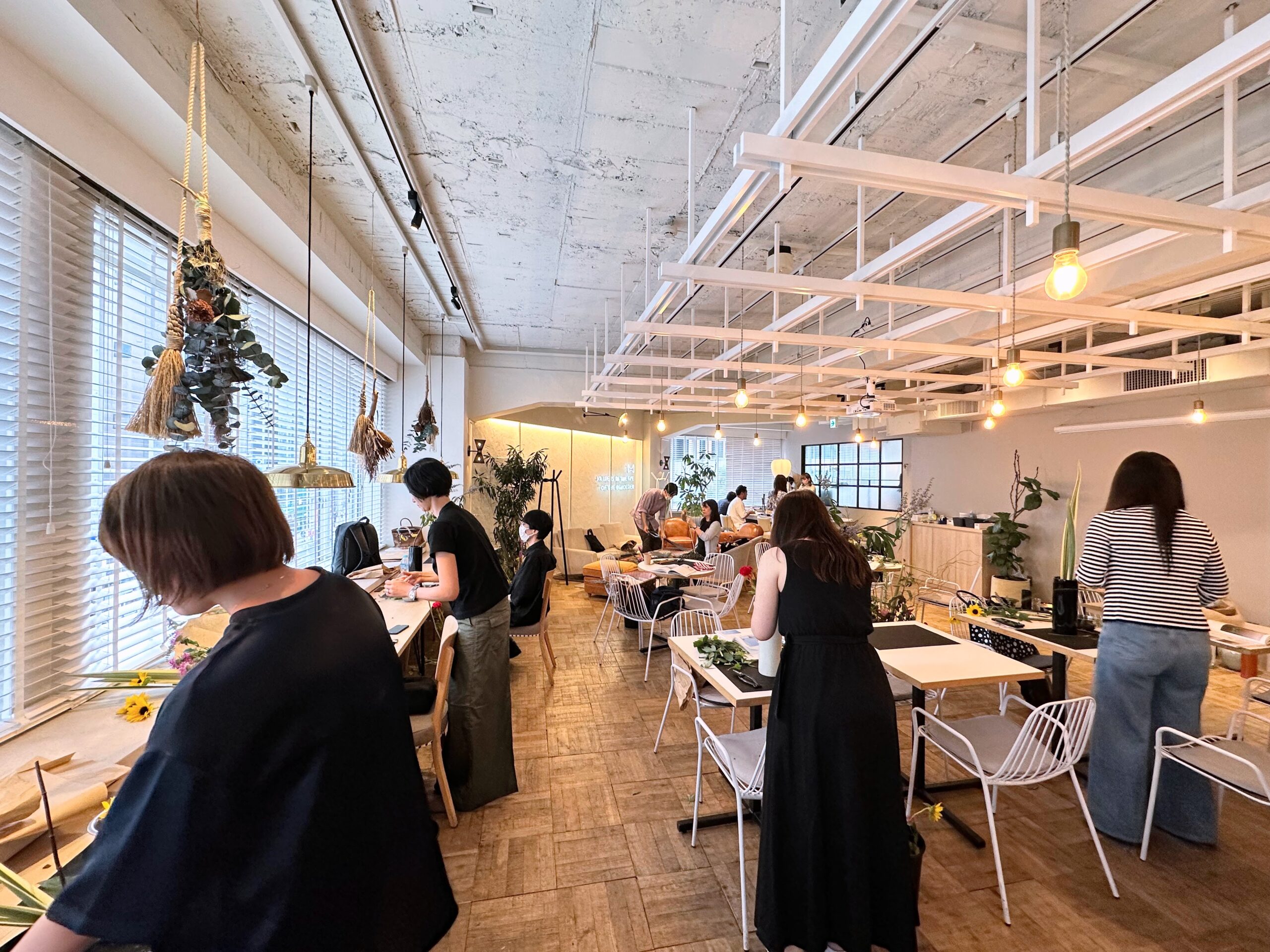 Hello everyone!  My name is Mika Otani and I am an Ikebana artist. Although it is September, the days are still hot.
I hold Ikebana classes three Saturdays and two Tuesdays every month at our classroom located right next to Roppongi Midtown. On the day of my lesson, I always upload the day's lesson to my Instagram story, but "I don't really look at Instagram! " I think there are many people who say that. Therefore, I decided to start a blog to share my lessons.
I feel that the way we practice in Ikebana arranging classes is quite different from other flower arrangement lessons. For example, I think it's normal for a flower arranging class to start all at once at a certain time, with the teacher giving a model, and everyone following the example. However, since Ikebana arranging is done in the old temple way (nowadays it might be easier to understand it as the Kumon style), the students come at their favorite time. In my classroom, students have to reserve their time in advance from the reservation page. There are many other students in the classroom, but each of them receives different lessons. Basic students are in the process of learning traditional flower styles one after another while following the Sogetsu style textbook. Students who have made some progress in their studies will study according to the "theme". This is the second textbook, and there are various themes., "Focusing on straight lines,"  Intertwining plants" "Using vegetables and fruits," etc. In order for each student to be able to master their own theme, I also prepare different flower materials according to the theme. Therefore, each person in the classroom will have different flower materials.
I often tell students in class, "Please look up from time to time and take a look at other students' work".  I often see people using the same flower materials, but creating completely different shapes. I think it's very stimulating, and students can learn a lot from watching people who have progressed through the course arrange rare flower materials. If you look up, you'll be greeted with a wide variety of scenery.
It's time to have a conversation with yourself and the flowers, so everyone is quietly thinking about it. Im asked sometimes by the trial lesson guests "Isn't there some kind of circle of friends that I can't join? "  But don't worry, there's no such thing as community solidarity. Most students come alone.
Students often tell me that if they take Ikebana arranging seriously, they feel refreshed and stress-free after finishing arranging flowers. I think having time to forget about various things and just focus on flowers is similar to meditation.
Lastly, I would like to introduce some of my students' works. When several students happened to share the flower material called horsetail, it was fun to see each of them come up with ideas. The students are students who have finished practicing traditional styles, so they are people who value their own ideas.
Many of my students are really good at it, and it's really fun for me to watch them.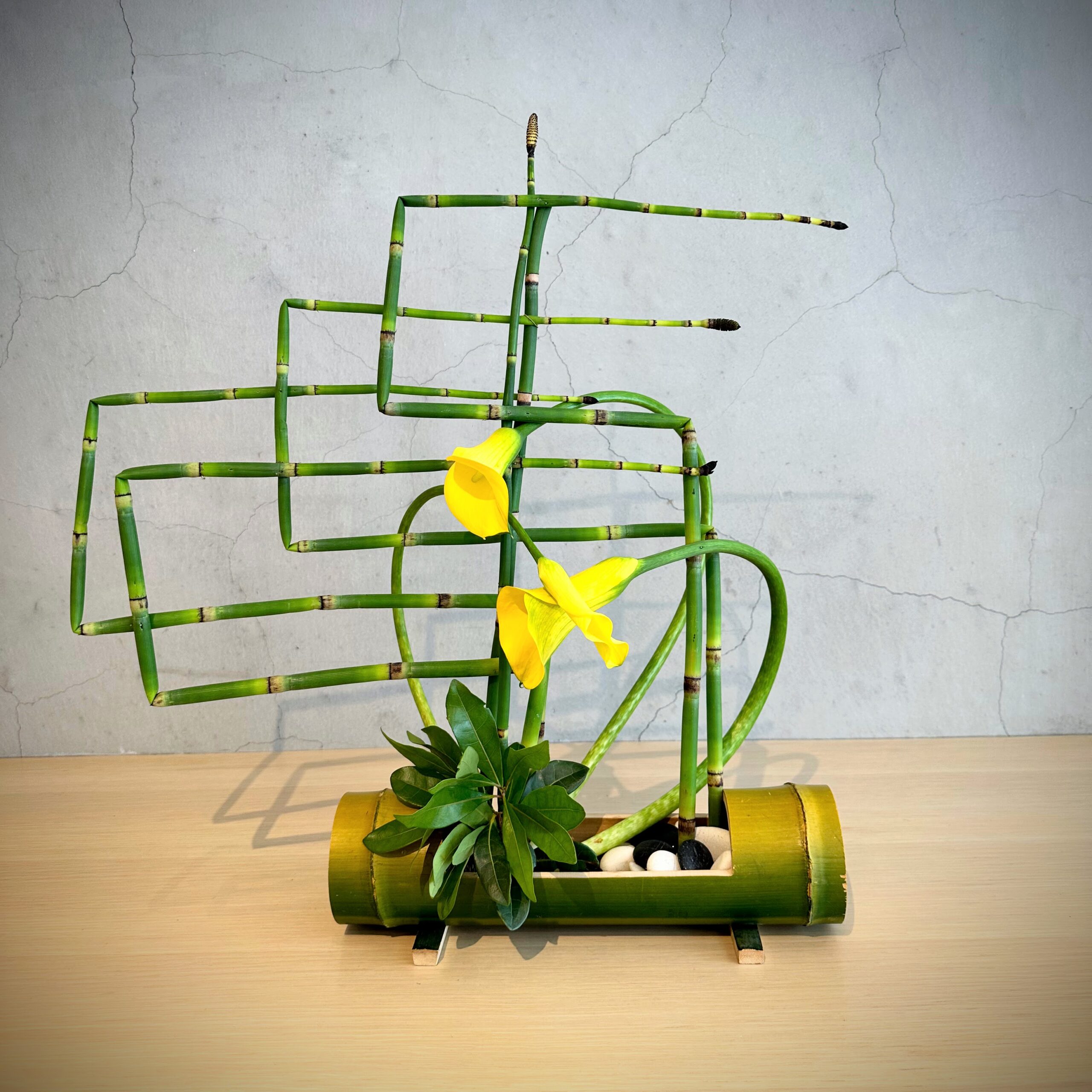 This is a work that contrasts the straight lines of horsetail with the curves of color. This work follows the theme of the textbook, "Straight lines and curved lines" Although the student has just finished the traditional pattern, she is very good at it!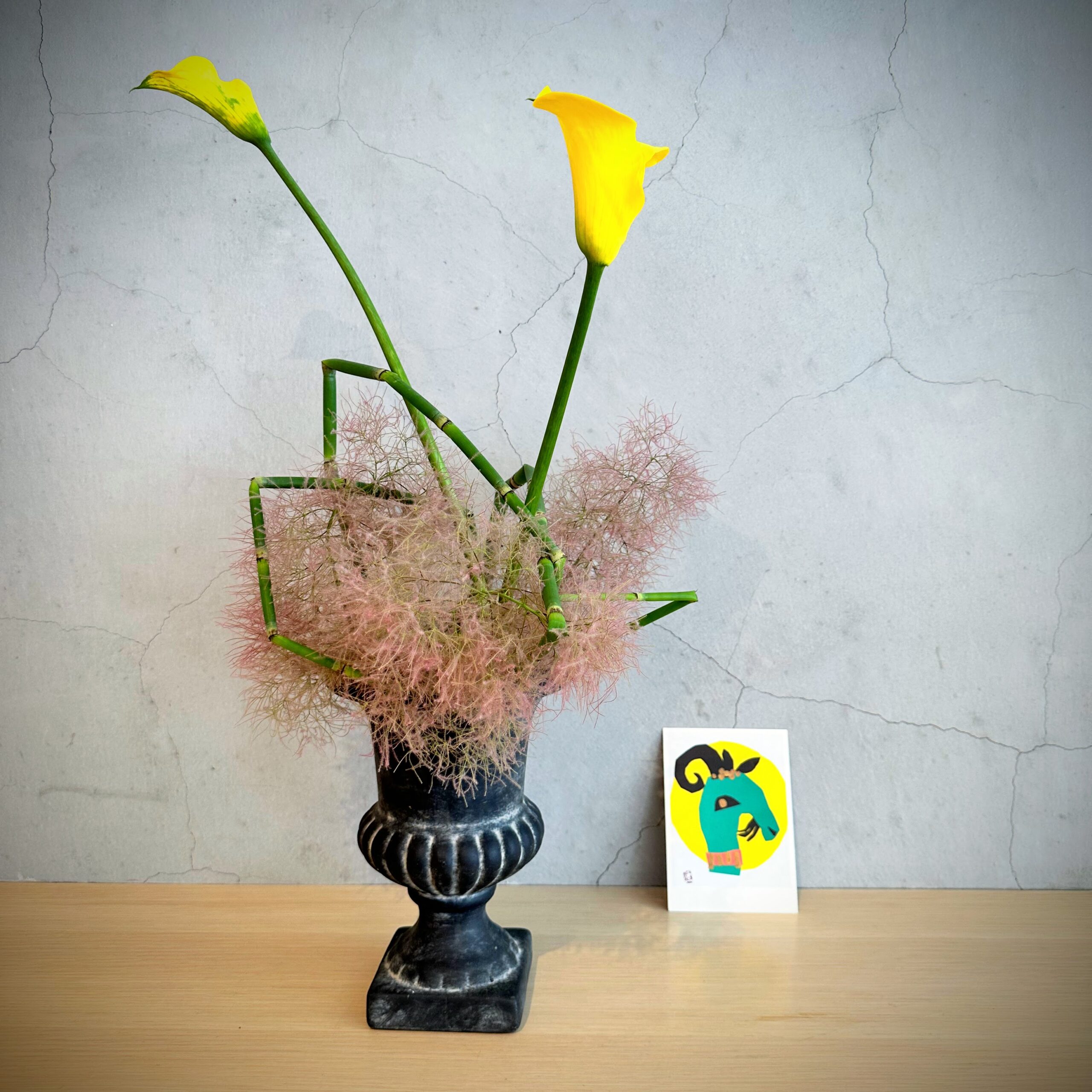 This work is based on the textbook "Conversation with Art".  This flower arrangement pays homage to the CHIGIRIE work of Sofu Teshigahara, the first headmaster of the Sogetsu school, on the right.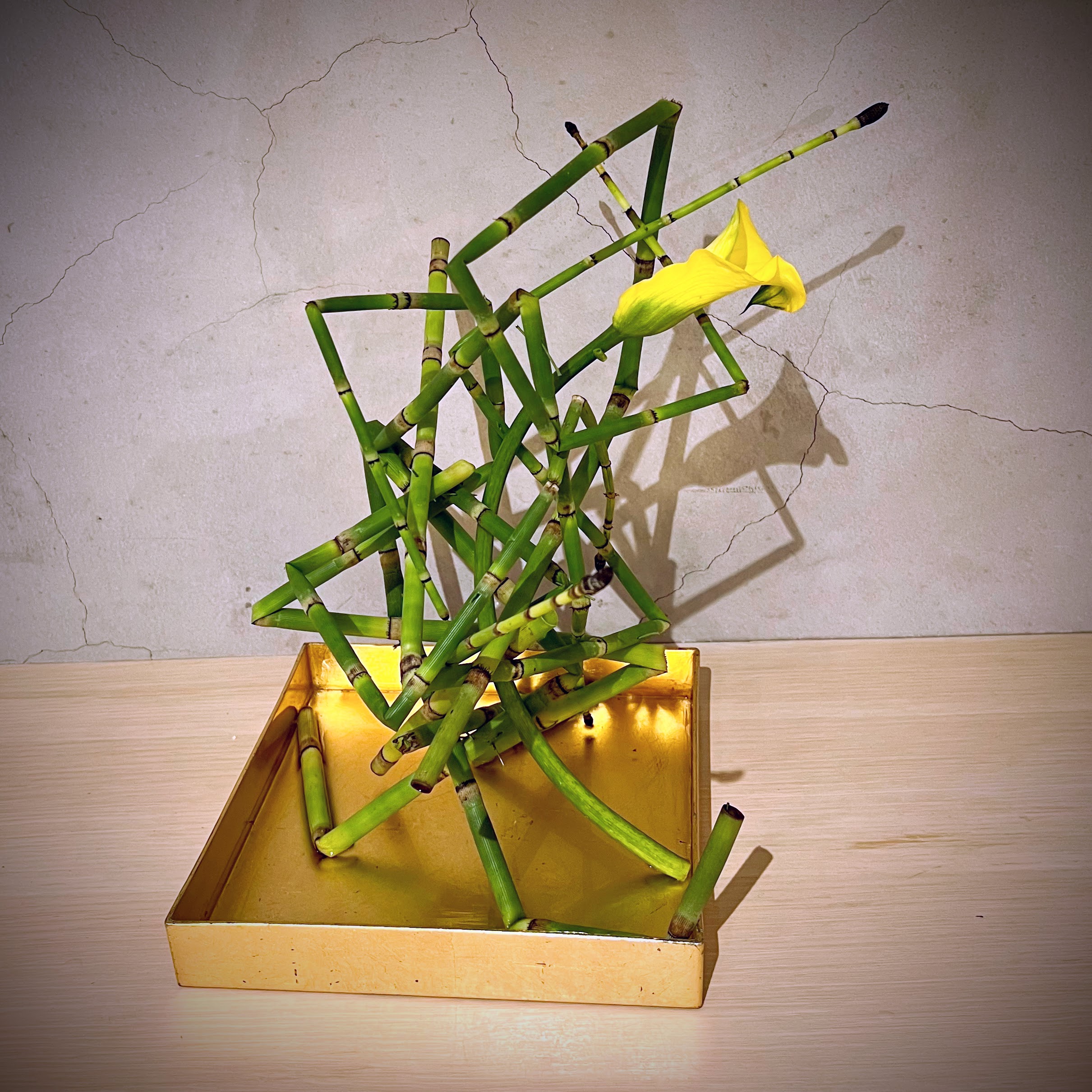 This is the work of a student who has already taken the teacher's license. The intricate lines of horsetail are art!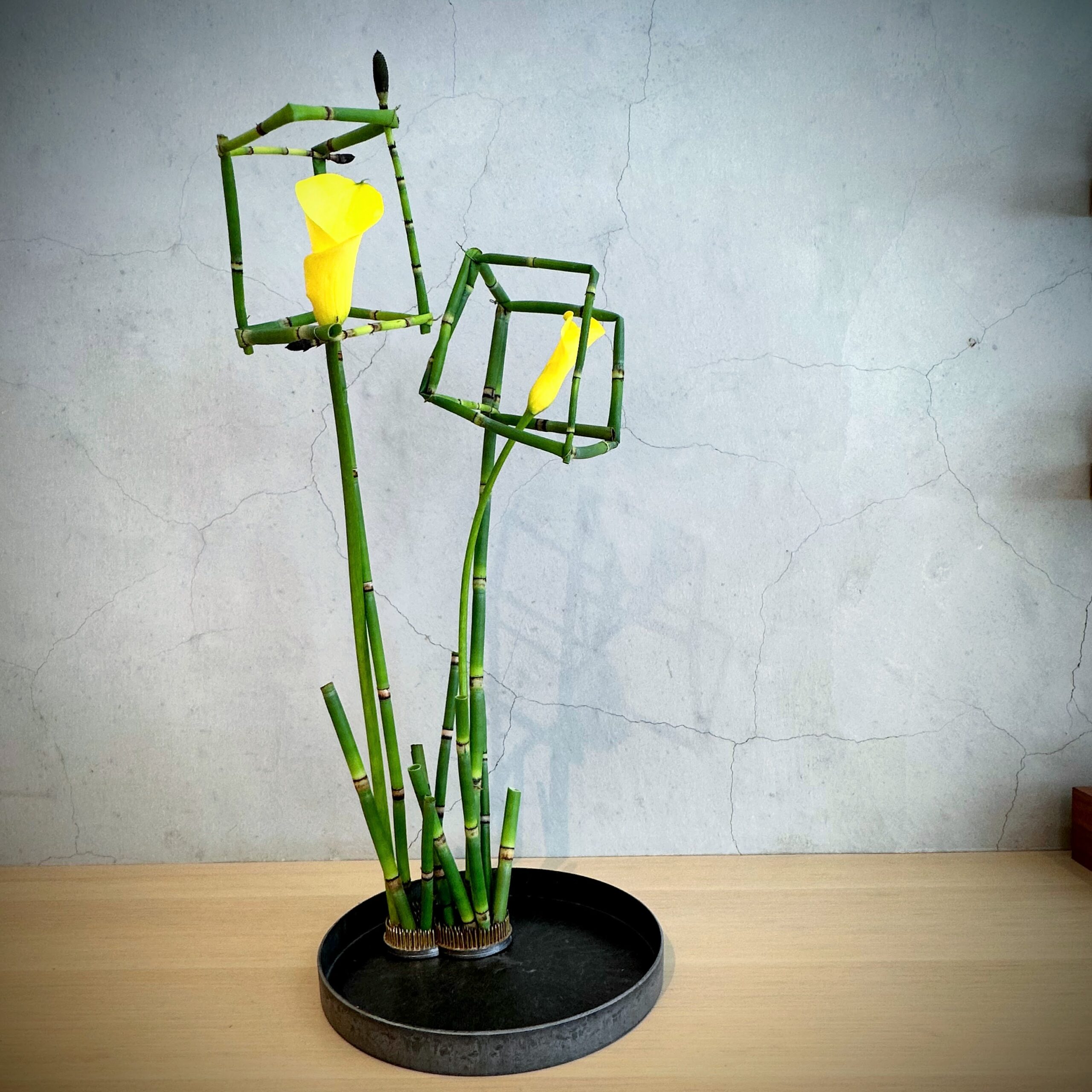 This is also the work of the instructor. This is a piece of horsetail shaped like a candle that brings out its cute personality.
There are so many wonderful works by my students that I can't list them all, so I'm planning to update the lesson diary again.
See you soon!