At Warsaw University
I'm a really slow writer like a snail.  As for my newest information, please check my SNS.  I'm active on Instagram and Facebook because that's easier to upload.
Instagram is here https://www.instagram.com/mikaotani_flowers/     Instagram ID is mikaotani_flowers
Facebook is here https://www.facebook.com/mika.otani.180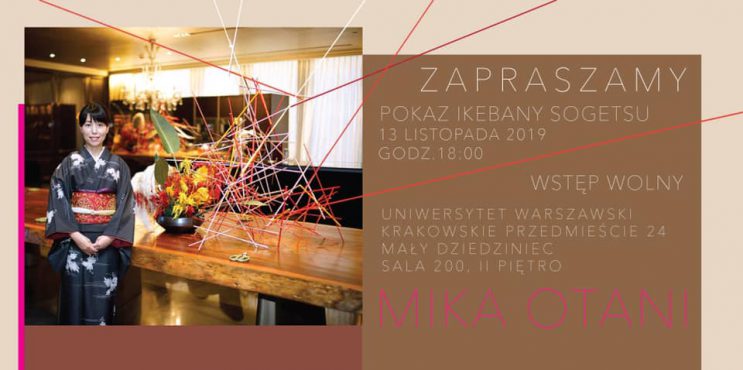 After my demos and workshops in Rome, I flew to Warsaw, Poland. It took just 2 hours by plane. Warsaw was nearer than I thought. I was planning to teach what Ikebana is for students of Warsaw University where the department of the study about Japanese culture is really famous.
Firstly of course I went out to a flower market.
As for vases, I went to a good angique shop to discover something wonderful as a vase.
倉庫跡地のようなところにあるワルシャワのアンティーク店。花器を探しに来ました。安い!その上欲しくなるようなものばかり。もし日本だったら、トラック1台ぐらい買いたいぐらい!
Warsaw antique shop. Came here to find containers to use for my demo. Beautiful shop!!!

大谷 美香さんの投稿 2019年11月13日水曜日
I met Kasia for the first time in Tokyo to teach Ikebana, then quickly she fell in love in Ikebana. She produced all this event. I stayed at her home and prepared for my floral event.
Finally the event started! Please click the movie. You can see my Ikebana demonstration at Warsaw University.
From Rome to Poland, my schedule was hectic. But I got wonderful experience and could meet many fantastic people.
I feel grateful for all guests who came to my demos and workshops. Cheers the amazing friendship through flowers!